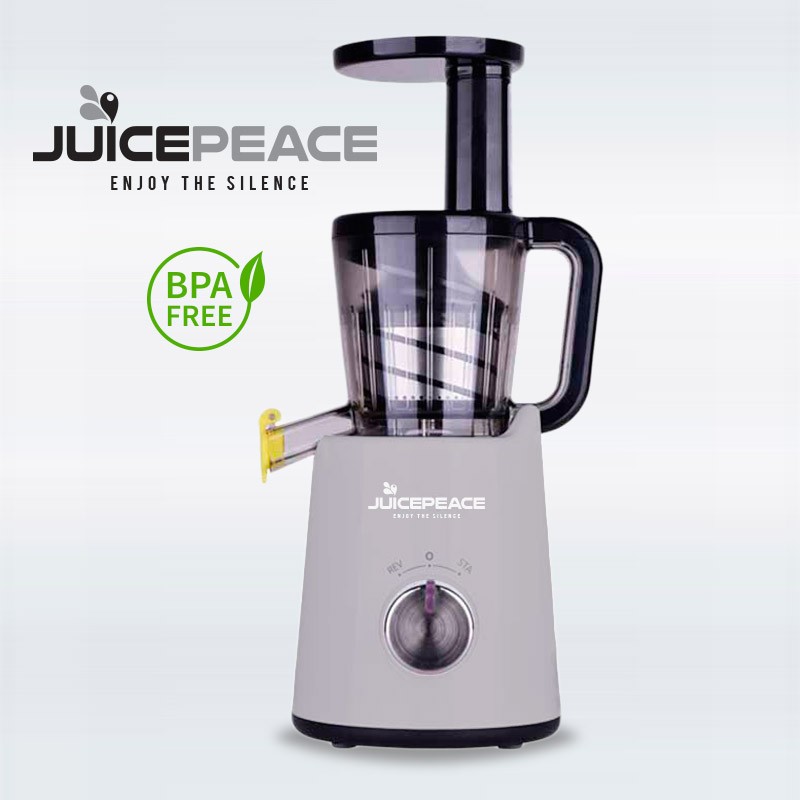  
Juice extractor JuicePeace Silver - BPA free
The most practical and proven cold extraction system 3 in 1 at only 32 rpm.
Security policy (edit with Customer reassurance module)

Delivery policy (edit with Customer reassurance module)

Return policy (edit with Customer reassurance module)

Ordine Telefonico 800 300 445
Introductory price - Delivery October 31, 2017. Take advantage of the Social Price now! Valid only for the first 30 juice extractors purchased.
Warning! After the first 30 are sold, price goes to RRP.
JUICEPEACE: Enjoy the Silence is the evolution of Juicepresso released more than three years ago.
We have created JuicePeace, starting with a highly successful extractor (Juicepresso CJP03), and reinventing its features and performance, perfecting it in the smallest details.
The result is a compact, handy juice extractor; designed to stay comfortably on the worktop of your kitchen ready to use.
JuicePeace is even more elegant thanks to the new design, such as the ergonomic handle and the four metallic colours that fit every style of kitchen design.
The most practical and proven cold extraction system 3 in 1 at only 32 rpm.
The new generation of JuicePeace further improves the juice extraction system thanks to Cold Press technology.
Juicepeace operates at 32 rpm to save the maximum amount of fruit and vegetable micronutrients (enzymes, vitamins, antioxidants and minerals).
The three part system allows for a quick dismantle of the extractor. Making  cleaning easy and fast as never before.
New generation AC induction motor is more powerful and quiet
The heart of JuicePeace is the evolved AC induction motor, double the power compared to the previous version of JuicePower.
Its incredible strength allows you to work peacefully: carrots, green leafy vegetables, and all the toughest ingredients without getting stuck and with maximum yield.
The motor is completely made of steel and does not have wearing parts, which guarantee long-lasting durability.
JuicePeace always works to it's  optimum performance, allowing a low power consumption of just 150 watts.
Greater food safety thanks to new Tritan BPA free materials
The JuicePeace Extractor is built entirely with BPA free  certified materials to give you maximum peace of mind in regards to the safety of your food in the kitchen.
Each component is built to last, for a constant and continuous use.
Prepare your best extracts and healthy vegetable milk without sacrificing any ingredient. With JuicePeace you have no limitations.
Many precious details that make the difference ...
JuicePeace collects more than 3 years of improvement requests from those who used Juicepresso every day for juice preparation.
So we've added an ergonomic handle that facilitates everyday use.
We have added the non-drip cap, which allows you to carry out a quick self-cleaning  of the extractor.
We have introduced new colours to meet every need in terms of design and style.
We've introduced a new silent engine that allows you to use it at any time without disturbing anyone!
And many other things that make JuicePeace the best choice for those who are approaching the world of juice extractors.
WARRANTY
Full 2-year warranty, both on motor and on components.
ASSISTANCE
As a matter of fact, assistance from siQuri is  important to us.
A dedicated team successfully and efficiently follows this fundamental aspect, often overlooked  when choosing your juice extractor.
A true point of reference for the customer is a dedicated Assistance that allows for a quick resolution of all the issues that may arise in JuicePeace's daily use.
Package Contents:
• Central unit with 150 W (32 rpm) steel induction AC motor body.
• Pulp jug made of  100% Tritan.. High thickness. BPA free, BPS free, without PVC and Phthalates.
• 100% Tritan cochlea. Quick to  install and to remove the filter. BPA free, BPS free, without PVC and Phthalates
• 100% Tritan closure cover. BPA free, BPS free, without PVC and Phthalates
• "Non drip" cap for juice outlet channel.
• Pestle
• Micro-perforated stainless steel filter AISI 430 without Nickel.
•  Two containers  of 800 ml for picking juice and pulp
• Cleaning brush for the extractor's internal parts.
• Owner's manual