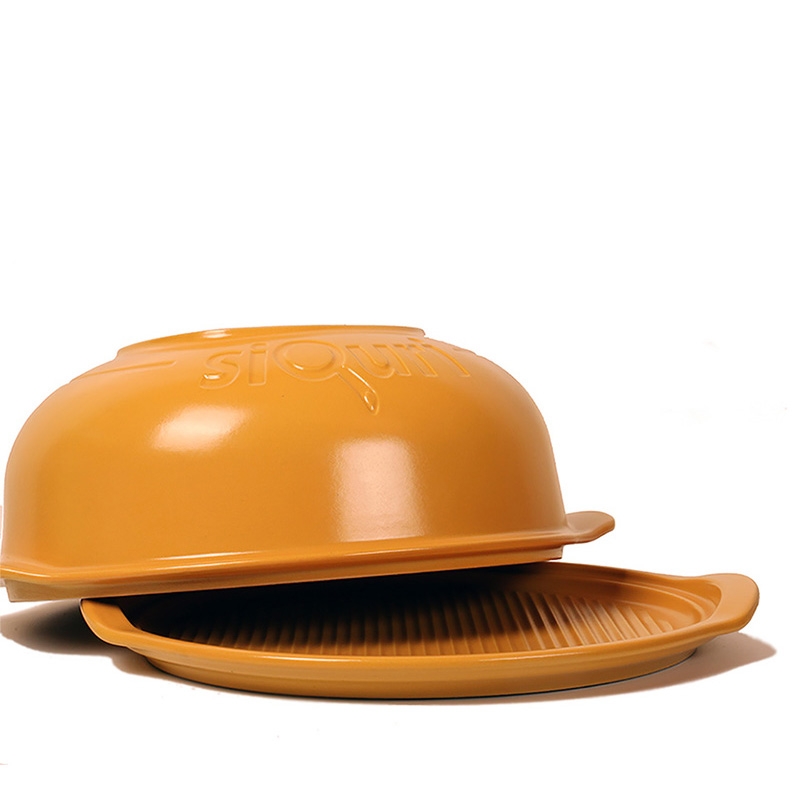  
PIZZA AND BREAD COOKINGWITH LABELL IN NATUTURAL CLAY BY SIQURI | DIAMETER 32 CM
Get a perfect pizza, bread and focaccia, thanks to LaBell. Built in eco-friendly white terra cotta without contamination from heavy metals, it guarantees maximum food safety during cooking.
Security policy (edit with Customer reassurance module)

Delivery policy (edit with Customer reassurance module)

Return policy (edit with Customer reassurance module)

.
LaBell, is the only bell shaped bread baking chamber for the rise and even cooking of bread, pizza and focaccia in the traditional and / or ventilated home oven perfectly.
Built in white ecological clay, LaBell contains no heavy metals and other pollutants, since lead and other hazardous elements have been replaced by naturally occurring alkaline substances for colouring, thus avoiding contaminating foods.
The white terracotta and the particular manufacturing of LaBell make it resistant to any thermal shock and is in fact guaranteed for 10 years. You can safely place LaBell in a completely hot oven (even at 300 ° C), without the risk of breaking it.
________________________________________
Artisan construction by an exclusive Italian-French collaboration
LaBell is the result of a cooperation between siQuri and Emile-Henry teamwork (French house brand since 1800). The goal is to provide a homemade tool for safe food cooking.
Made entirely of organic raw material (white clay, terracotta) without any allergenic element including Nickel, Cadmium and Lead.
LaBell reproduces the cooking performance of the ancient furnaces while maintaining the right degree of temperature and humidity.
To be used in normal and / or ventilated ovens for healthy preparation of bread, pizza, focaccia.
Ergonomic design
LaBell is the only 32 cm diameter baking bell to aid in pizza and focaccia and bread making.
The lid has been designed to be rotated and used for natural and slow rising of the dough.
The sophisticated and elegant shape is ideal for bread, pizza and focaccia serving.
The hermetic closure also allows the storage of bread, keeping it fresh for several days.
Perfect and evenly cooking
laBell ensures uniformity in cooking, keeping intact the natural flavour of the cooked food.
The natural contaminant free clay absorbs the heat and slowly transmits it to the food allowing a delicate but efficient cooking.
The particular porosity of laBell's terracotta allows for more intense aromas of foods that are cooked inside. According to many chefs, bread, pizzas and biscuits cooked in this way acquire an extremely sophisticated flavour.
Easy and quick cleaning without the use of chemical detergents
LaBell is quite easy to wash: all you need is hot water and lemon. You can thus avoid aggressive and environmentally harmful detergents. To dry it just turn it over, so moisture can evaporate from the bottom, this is also useful for a better shelf life/storage of the product.
Rediscover the pleasure of "home made"
LaBell is ideal for natural rising and cooking of any type of bread / pizza / focaccia.
Also suitable for whole grain and gluten-free flours.
LaBell allows us to rediscover healthy and home made bread, unlike the white and refined processed bread, nutrient-free and often allergenic.
LaBell teaches you how to make bread, pizza and homemade focaccia
Included with LaBell you receive a handy video for home bread baking.
In 10 video lessons discover all the tricks to prepare the best bread, the best pizza and focaccia.
In 60 minutes you will learn how to calculate the right water temperature, the right mix of flour, the best cooking times and much more, to get a home made, perfect preparation.
________________________________________
PACKAGE CONTENT:
• LaBell lid in natural terracotta clay to allow for rising
• Dish plate in natural terracotta clay with 32 cm diameter
• Reinforced, anti-breaking packaging suitable for express courier delivery
________________________________________
WARRANTY:
10 years of exclusive warranty